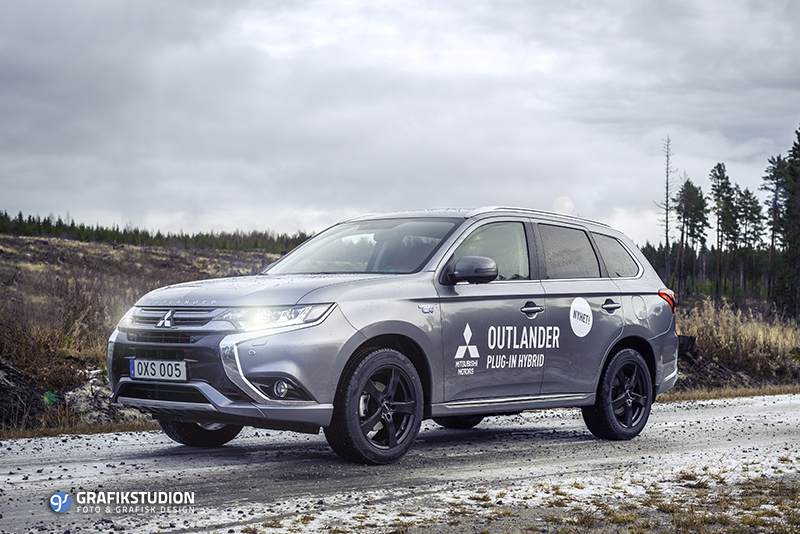 Mitsubishi Outlander Plugin hybrid-First test run
Today I went to Thunbergs car in Söderhamn to take a look at a Mitsubishi Outlander plug-in hybrid. The car qualifies for the Plug in Car Grant support from the Government of £3100 (until last dec 2015). The car dealer Emil was very helpful, he has a Outlander hybrid as well but in model year 2014. I had the opportunity to test drive the car as well. Unfortunately, the battery in the car almost completely empty so the test drive was not optimal.
Initially the petrol engine buzzez slightly but after a while it stops and the electric motor takes over when it has been loaded by the petrol engine. The transition between electric and petrol is completely transparent except that it gets quieter, everything is managed automatically. It is really comfortable with the low noise level. Something that was even more comfortable this cold winter day was the heated steering wheel. My hands are always cold so this is really a nice feature. I have never had a car with automatic transmission but I feel that it's certainly something that I will stick to. The acceleration is actually better than what I thought but it's no sports car.. If you make a kick-down the gasoline engine takes over and help to either charge the battery or drive the wheels, but then returns to the electric motor again. I drove mostly on country roads and I never got to try the motorway. At speeds up to 40 mph, it is always the electric engines that drive the car and at higher speeds, they can get help from the petrol engine.At speed above 74 mph it is always the petrol engine that drives the car. I like the Interior, it is not as sober as of Volvo, BMW and Mercedes but it´s quite adequate for me and a lot better than the previous model.
I will take the car for a test drive for a full day and try it out with fully charged battery in the next couple of days. A more complete report will come …
…………………………………………..
Visit Grafikstudion – my company website:
Photographer Hudiksvall
Photographer Söderhamn
Wedding Photographer Hudiksvall
Wedding Photographer Söderhamn