Outlander PHEV – Start the pre heater with Text message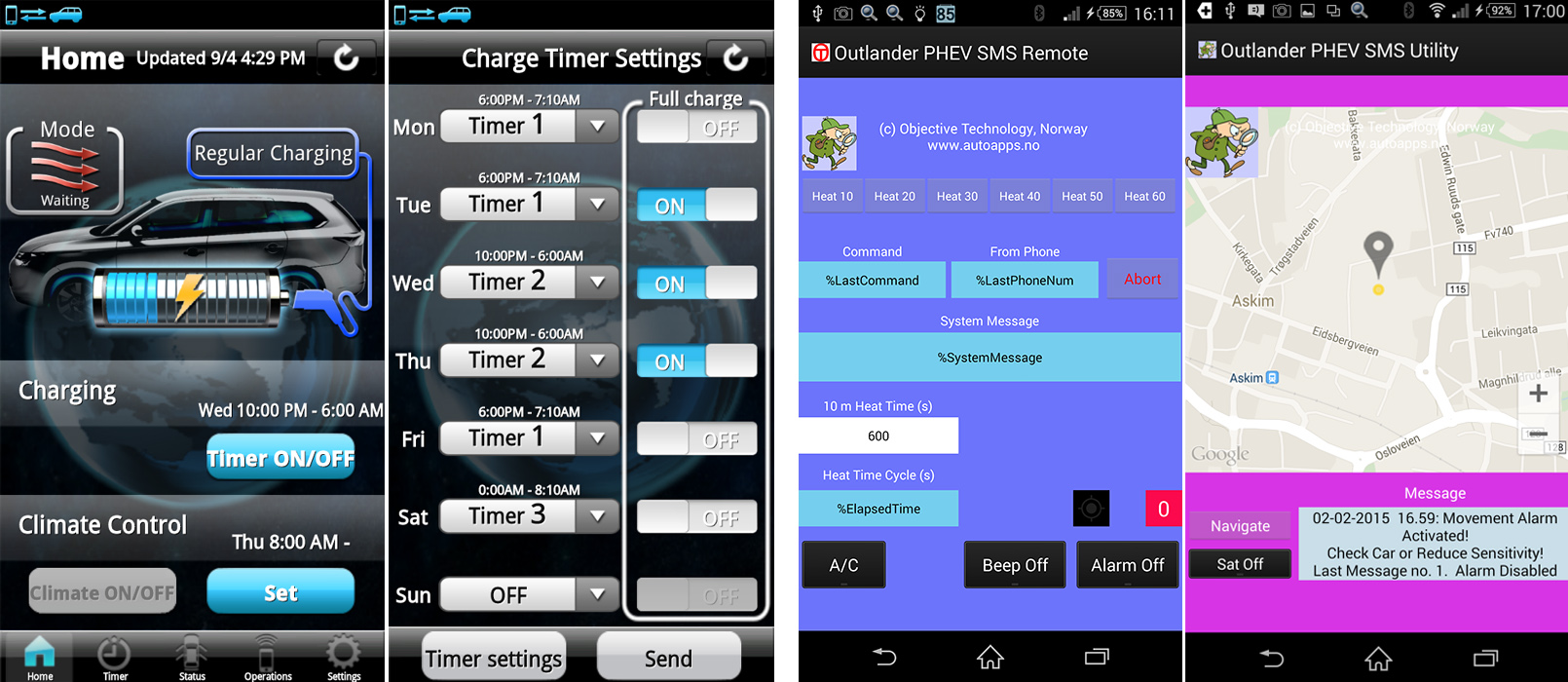 Ever since I got my Mitsubishi Outlander PHEV plug-in hybrid delivered in December, me and the workshop did not succeed in getting the Outlander Remote App to work with my car. It is used to start the heat/AC in the car via Wifi. I've managed to get it to work with my old cell phone Sony Xperia Z1 but I do not want to run around with two phones. That is why I have now acquired the Outlander PHEV SMS remote app. With the app installed, I can start the heat/cold with a text message instead. It provides several benefits. The range to start the pre heater has increased from 10-50 meters to unlimited as long you have reception. With wifi you can´t be too far away from the car. You can also set the heating on for longer than 30 minutes, which is the limit of the Outlander Remote App. Then there's an addition to the app (SMS Utility) where you can track where the car is and a function that sends a text message if the car is moving. This is whats needed for the SMS feature to work :
An additional smartphone that is always in the car.
It must have the Outlander Remote App and Outlander PHEV SMS remote installed
An old smartphone is something that most people have at home, otherwise you can buy it very cheap. Your phone must be able to send and receive SMS. I have therefore acquired a prepaid phone card to it. I have it connected to a charger, and it is located in the center console of the car. The app costs 27 Euro and is available in Google play.
Your regular cell phone.
It just needs to be able to send SMS. No other app is needed.
The interface to the Outlander PHEV SMS remote is not the prettiest but it doesn't matter, the phone stays in the car and you don´t have to look at it after it has been set up.
You can acheive the same thing with theTasker app and a script but I don´t mind paying to get a working solution. I got a tip about this from one of my blog readers Johan. The script comes originally from this forum: http://insideoutlander.boards.net/thread/478/tasker-programs-remote-control-phev.
If you want to leave comments on my posts, there is comment box below each post. The comments field is not listed on the home page, but you have to go into each post to find it. You get to it by clicking on the title of the post.
……………………………………….
Visit Grafikstudion – my company's website
Photographer Hudiksvall, Photographer Söderhamn